History
Discover the milestones that have shaped RAMQ, in words and images.
The beginnings of health insurance
In Québec, the decade of 1960 was marked by the Quiet Revolution and sweeping changes to the role formerly played by the State. In the areas of health, social services and education, vast reforms reflect the will for democratization and are carried forward by secularization.
1961
The department of family and social welfare is created
A statute for hospital services
In Canada, health care was previously paid and provided by private organizations. With the adoption of the Hospital Insurance and Diagnostic Services Act in 1957, the federal government now shares half the costs assumed by the provinces and territories for hospital services. Québec becomes a party to the statute in 1961.
1962
Québec passes the Hospital Insurance Act
1963
Electricity is nationalized
1965
The Caisse de dépôt et placement du Québec is created
The Régie des rentes du Québec is established
1966
The Medical Care Act
The federal government passes the Medical Care Act, which provides for the reimbursement or sharing of half the costs assumed by the provinces and territories for medical services provided by doctors outside hospitals.
1967
CEGEPs appear following the Parent Commission
The Castonguay-Nepveu report is tabled
With the aim of carrying out a comprehensive assessment of its health care system, the Québec government launches the Castonguay-Nepveu Commission in 1966. In its report, tabled in 1967, the Commission proposes a complete and universal health insurance plan for all Québec residents.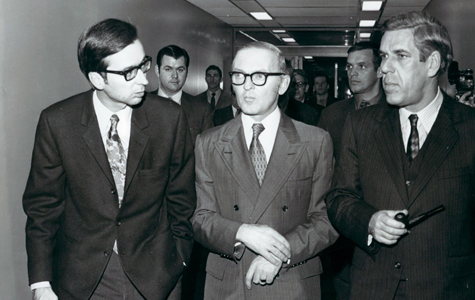 One of the "fathers of health insurance"
Claude Castonguay plays a crucial role in the implementation of the health insurance plan, then in that of the Public Prescription Drug Insurance Plan. Following his role as government advisor, he becomes chair of the Commission d'enquête sur la santé et le bien-être social (investigative commission on health and social welfare). He is named Minister of Health by the government of Robert Bourassa, elected in 1970. At the forefront of the changes reshaping Québec, he will play an active part in the steps leading to the implementation of health insurance.
Still today, his name is linked to the "castonguette," a manual machine used to make an imprint of a health insurance card on a billing form. To find out more about the beginnings of health insurance, watch the video about Claude Castonguay (in French) published online by the Québec National Assembly.
1969
Social Aid Act passed
The
Régie de l'assurance maladie du Québec

(RAMQ) is born

Efforts to make health care services more accessible to Quebeckers come to fruition on June 13, 1969: the Québec National Assembly assents to bill 30 toward the creation of RAMQ, whose mandate is to implement a health insurance plan in Québec and meet the health needs of Québec citizens.
Coming into effect of the Health Insurance Plan
1970
A universal, free and fair plan
In a context of heightened social and political tensions, the Health Insurance Act is passed on July 10, 1970. Negotiations follow with health professionals in order to conclude agreements with general practitioners, and next with medical specialists. The Québec Health Insurance Plan comes into effect on November 1. Against the background of the October crisis, the event is marked in a discrete and subdued manner in Québec.
The Health Insurance Card is here
Using a list of names and addresses from various Québec government departments and agencies, RAMQ sends out a personalized form to Québec homes.
Whomever is not reached in this manner can fill out a coupon printed in newspapers: a major advertising campaign is also underway to inform the public on how to proceed. As a result, all Québec residents will obtain their first Health Insurance Card.
"The operation, spanning close to a month, was supported by a major advertisement campaign on the radio and television. To be sure to reach everyone without exception, RAMQ also ran an ad in 14 newspapers published in languages other than French and English, intended for linguistic minorities." [our translation]

40 ans de rayonnement,

Régie de l'assurance maladie du Québec

, 2010.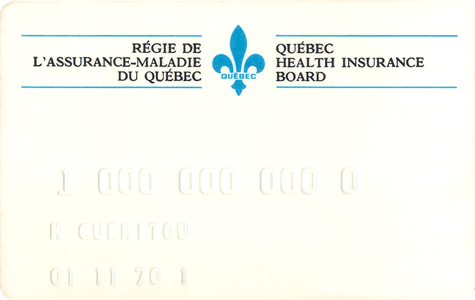 In 1970, RAMQ is:
administering 3 programs (medical, optometry and oral surgery services)
employing 1,000 staff
remunerating 10,000 health professionals
covering 4.5 million people
responding to 346,619 telephone calls and 132,701 letters from citizens
1971
Staff mobilization to sign up health professionals
Following the signature of agreements with health professionals, RAMQ is now ready to meet their payment needs. In under 15 days, it is able to send them:
7,000 castonguettes (manual card imprinters)
6.3 million claim forms
22,000 billing manuals
1 million other documents required for billing
CLSCs are created
CLSCs (local community services centres) appear within the framework of the community clinics that opened in the 50s and 60s. Their mission is to provide accessible health services to all. The enactment of the Act respecting health services and social services in 1971 paves the way for the creation of the CLSC network.
1972
A taste of the prescription drug insurance plan to come
RAMQ issues a first payment to pharmacists: at this time, social aid recipients are the only beneficiaries of free prescription drugs.
1975
A new social aid program
RAMQ launches the reimbursement program for the purchase, adjustment, replacement or repair of prostheses and orthopedic devices.
1976
"
Carte soleil

" makes its appearance

The look of the Health Insurance Card is totally revamped in 1976. The card is valid for 4 years, and a unique permanent number is assigned to each person. The background picture of a sunset seen on the card as of 1976 explains why it is called unofficially the "carte soleil."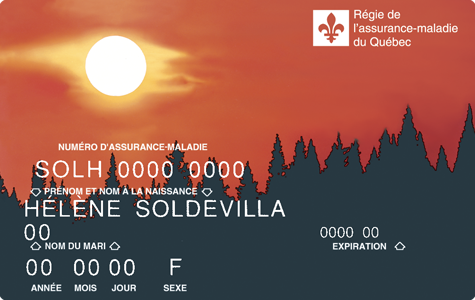 1977
RAMQ implements a program for the hiring of disabled persons
The Charter of the French language (bill 101) is passed
The first teams of information agents: Toward citizen service
On average, 850 letters make their way weekly to the Correspondance aux bénéficiaires (citizen correspondence) sector. It handles questions by citizens on the services and programs covered by RAMQ.
1978
A first payment for the Visual Aids Program
The program, now running for a few months, provides for a reimbursement of the purchase of a complete closed-circuit television magnifier. The device, at a cost of $2,300, enables young people with reduced visual acuity to pursue their secondary-level studies.
1979
Social security agreement with France
The first social security agreement is signed with a foreign country. The agreement allows 100,000 Québec and French students to travel across the Atlantic and retain their health insurance coverage. In total, 9 other countries will be added to the list of signatories.
More and more social aid programs
On August 22, the 16th program administered by RAMQ comes into effect: approximately 6,000 persons with hearing impairments are now eligible for the Hearing Devices Program.
1980
The digital era
RAMQ is keeping up with the times! Computers, in use at RAMQ since its inception are increasingly prevalent in the daily work of workers and citizens. The TCP/IP protocol is adopted in 1983, and the term Internet is used for the first time to describe the interconnected networks using this protocol.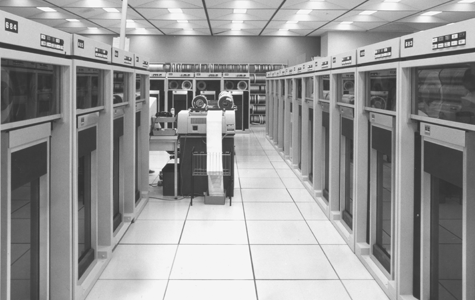 1987
Diane Hébert, organ donation pioneer
The recipient of the first heart and lung transplant in Québec, Diane Hébert, sets up a foundation to support organ transplantation. Thanks to her efforts, the Health Insurance Card will become the official organ donation card in 1992.
1988
Decriminalizing abortion with the Morgentaler decision
In the wake of the Morgentaler decision, women can now access the services of an abortion clinic without fear of reprisals. This is an important victory for all progressive organizations who have struggled for the past 20 years to ensure free and safe access to abortion services.
1992
The Health Insurance Card gets personal
A photo and a signature now appear on the Health Insurance Card of persons age 14 and over. A hologram is added to thwart forgery.
1995
New cooperation
RAMQ and SAAQ coordinate their operations: the same photo and same signature are used for the Health Insurance Card and driver's licence. The periods of validity are harmonized, thus simplifying the renewal process.
1996
Enactment of the Act respecting prescription drug insurance
With the passing of the Act on June 20, 1996, RAMQ goes into overdrive: raising awareness and registering all persons eligible for the Public Prescription Drug Insurance Plan. To this end, RAMQ lays the necessary groundwork to complete the entire operation in less than 4 months. RAMQ embarks on a province-wide information tour:
45 RAMQ staff mobilized
240 Québec municipalities visited
300 sites visited, including CLSCs and shopping centres
35,000 interviews conducted, on an individual or group basis
"What an adventure, the information tour turned out to be! Those who lived it remember it to this day. We visited all of the regions of Québec to explain the new prescription drug insurance plan to the public. We were received in CLSCs, among other places, with open arms. The whole experience was quite enriching." [our translation]

Liliane Légaré and Diane Arsenault –

Centre de relations clientèle de Québec


(

40 ans de rayonnement

, RAMQ, 2010)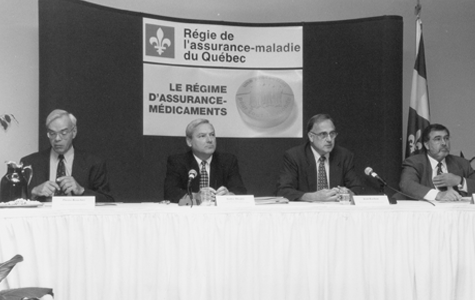 1997
Prescription drug insurance: The public plan is born
On January 1, the Public Prescription Drug Insurance Plan comes into effect, covering 1.2 million persons without prior drug insurance. As part of the operations, telecommunication systems linking 1,500 pharmacies to RAMQ are modernized to handle 15,000 transactions per hour, on average.
"Given the existing situation, we had to reassess the feasibility of a universal plan, this within a very strict budgetary framework with little room to manoeuver regarding additional costs. We had to be innovative and create a plan that departed from those already in existence at RAMQ. We also had to design a totally new funding approach within the scope of social protection programs." [our translation]

Guy Simard –

Direction de l'actuariat et de l'analyse des programmes


(40 ans de rayonnement, RAMQ, 2010)
1998
Signez don!

(sign up and donate)

When they renew their registration for health insurance, Quebeckers now receive an information pamphlet on organ donation along with a sticker they can affix to their card. By signing the sticker, donors officialize their consent. On previous cards, there was a box the person had to check.

2000
Program for Devices That Compensate for a Physical Deficiency
Approximately 2,000 wheelchairs per year are refurbished and allocated to insured persons, through rehabilitation centres.
Harmonizing the process for reporting a change of address
RAMQ is involved with the creation of the Service québécois de changement d'adresse, a one-stop service to report changes to one's personal information to government departments and agencies.
By 2000, RAMQ is:
employing 1,300 staff
remunerating 25,000 health professionals and service providers
covering 3.2 million persons under the Public Prescription Drug Insurance Plan
covering 7.2 million persons under the Health Insurance Plan
2005
Dossier santé Québec

(Québec Health Record)

RAMQ creates the DSQ at the request of the Ministère de la Santé et des Services sociaux (MSSS). This secure tool for use by health professionals groups together in one database the health information of Québec citizens.
2006
A step forward for woman's' rights
The Superior Court renders an important judgment: henceforth, women covered by the public health insurance plan don't have to pay to undergo an abortion, even in private clinics. The medical procedure is now paid for by RAMQ.
2013
Lac-Mégantic tragedy
After the tragic train accident in Lac-Mégantic, RAMQ is on hand at the kiosk of the government's assistance and information bureau to provide supportive care to affected persons. The goal is to make it as easy as possible for them to obtain the services they need at this distressing time.
2015
Conflict in Syria and welcoming refugees
RAMQ is on the front line to welcome newcomers, helping facilitate their integration throughout this difficult period of their life. Refugees arriving in Montréal are greeted by RAMQ employees who assist them in obtaining a Health Insurance Card.
2016
Creation of the Québec Family Doctor Finder (GAMF)
At the request of the Ministère de la Santé et des Services sociaux (MSSS), RAMQ establishes the Québec Family Doctor Finder, a centralized online system for citizens wishing to access a family doctor.
2017
Québec Medical Appointment Scheduler available online
Following a request by the Ministère de la Santé et des Services sociaux (MSSS), RAMQ develops an online service where citizens can schedule an appointment with a family doctor, thereby making it easier for everyone to access health services. Three years after its launching on April 4, 2017, the Québec Medical Appointment Scheduler will have booked more than 4.7 million online appointments.
2018
The Québec Health Booklet has arrived
Intended to be used by citizens, the Québec Health Booklet is a free, accessible and secure online service where Quebeckers can keep abreast of their health information. In the 2 years after its launching, more than 620,000 people will have logged on. In November 2019, RAMQ wins the Prix d'excellence de l'administration publique du Québec (Québec public service excellence award), in the digital initiatives category, for this project.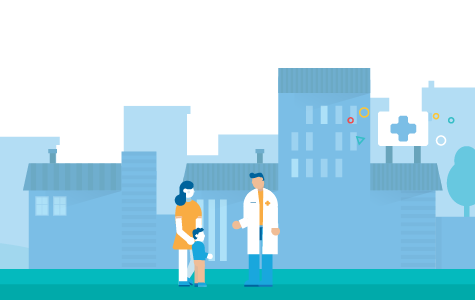 The Health Insurance Card is redesigned
For the first time in over 40 years, RAMQ changes the look of the Health Insurance Card. New security features are added, some visual and others tactile, giving the card a unique character. The background colours are lighter, but the card retains its distinguishing background picture of the sun. In line with the trend worldwide, the photo is black and white, thereby enhancing image resolution.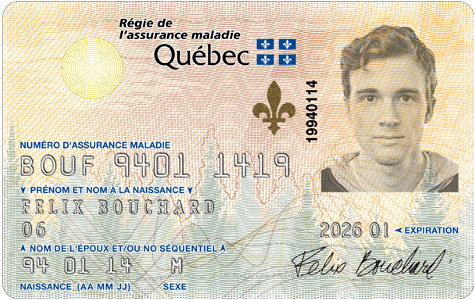 2019
See Better to Succeed
Simple, quick and effective, the new program covering the purchase of eyeglasses and contact lenses for children is a boon for parents. The program is yet another digital service provided by RAMQ. One year after its launching in September 12, 2019, RAMQ will have processed over 175,000 applications.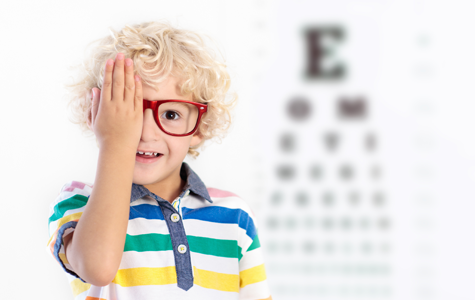 2020
50 years serving citizens
After over 50 years of dedicated service, RAMQ is more than ever citizen-focused. With a revamped website and user-friendly digital services, RAMQ is helping citizens become increasingly involved in managing their health.
At the same time, RAMQ is constantly working to simplify access to its increasing array of services. In these ways, it is playing a major role in improving the lives of Quebeckers.
By 2020, RAMQ is:
administering over 40 programs
employing 1,718 staff
remunerating more than 55,000 health professionals, prescribers and service providers
covering 3.7 million persons under the Public Prescription Drug Insurance Plan
covering 8.2 million persons under the Health Insurance Plan
processing 335.4 million claims for health professionals and service providers
COVID-19 pandemic: A Health emergency
Designated an essential service right from the start of the pandemic, RAMQ doubles down to anticipate and respond to the public's needs. The outpouring of solidarity is remarkable: some staff even perform additional volunteer work to support the health network.
Teams are redeployed and administrative relief brought so that citizens can more easily access services despite the temporary closure of the RAMQ offices. New agreements with health professionals are also quickly reached.
"We are in right in the middle of a collective health effort that is unprecedented in Québec. The contribution made by each of us will ensure that the battle at hand will be won as soon as possible. I am proud of our organization which, in a matter of a few days, completely reinvented itself, remaining steadfast in providing services to our citizens."

Marco Thibault, president and chief executive officer
2022
RAMQ head office named Édifice Claude-Castonguay
In June, to honour the memory of Claude Castonguay, the man many considered to be the "father of Québec health insurance", RAMQ head office building was named Édifice Claude Castonguay. A commemorative plaque in his name is also installed on the outside wall of the building.