Entreprise en santé

–

Élite

certification

RAMQ is committed to its staff's health, well-being and active involvement.
(The below links lead to French webpages.)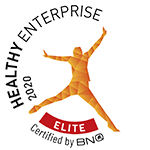 Thanks to its employees, RAMQ has earned Entreprise en santé – Élite certification from the Bureau de normalisation du Québec. This award recognizes the very best management practices and acknowledges organizations for whom staff health and well-being are paramount.